"To the world you may be just one person, but to one person you may be the world."
- Brandi Snyder
I can't believe it's already been a week since Stan's Celebration of Life. While I'd rather not have needed to have it at all, the turn-out was heart-warming.
Many people were there in person, some driving from far away and getting hotel rooms; while dozens attended online from as far away as Scotland and Taiwan. We have friends all over the world and it was truly a global event. I'm sorry I didn't get a screen shot from Zoom (if anyone did, please let me know!), but lots of people left wonderful comments in the chat. Zoom is such a strange way to host a final good-bye, but the silver lining is being able to include friends from afar, and now I have an actual recording of the event. I've been slowly going back through the photos, the tributes, the comments, and putting together a compilation video for friends who missed it (link below), and for myself of course. It's not been an easy thing to do. Everyone has been so generous with their love, and I miss Stan so much - it's hard to see your computer screen when your eyes are filled with tears.
But a few wonderful photos were taken that I want to share... Here I am with some of my students, Kaelen, Maggie, and Sarah...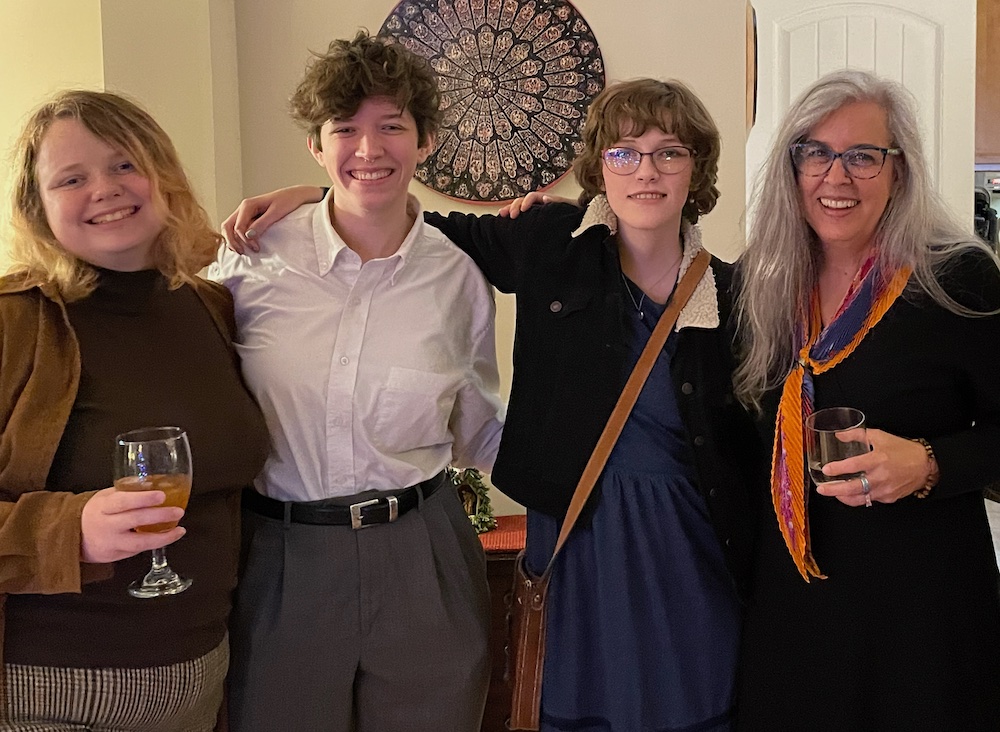 with Tina Hanlon and students and friends in the background...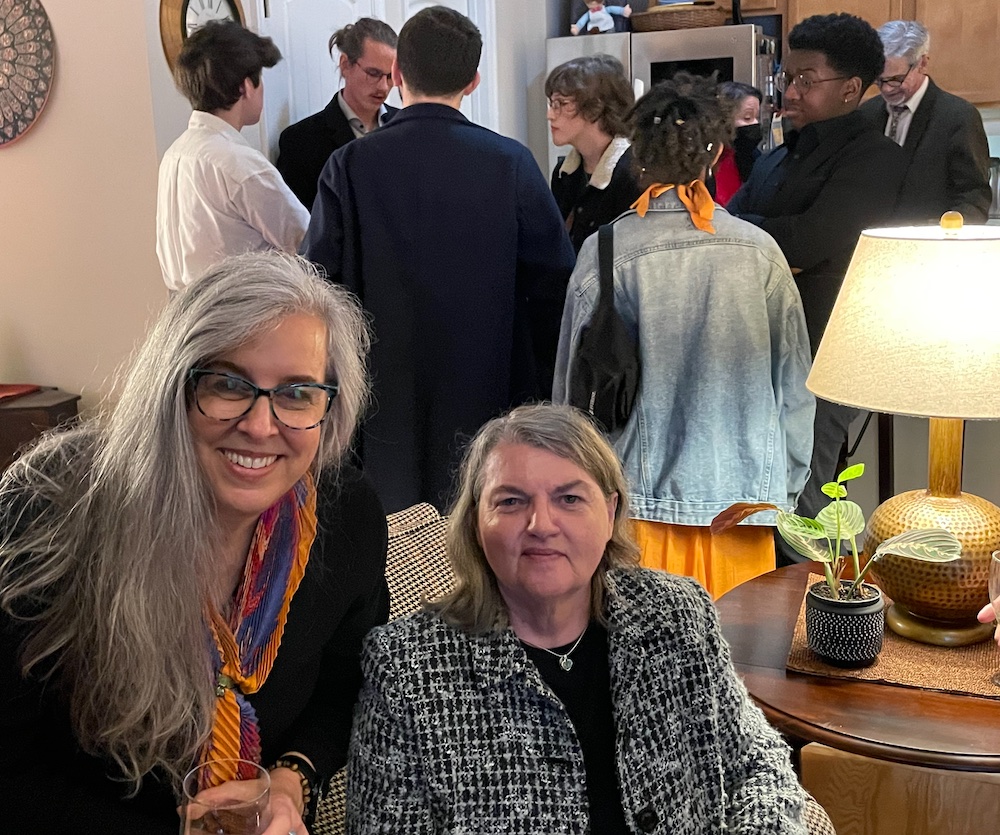 Winthrop Professors and Chairs Elisa, Eva, and Jason...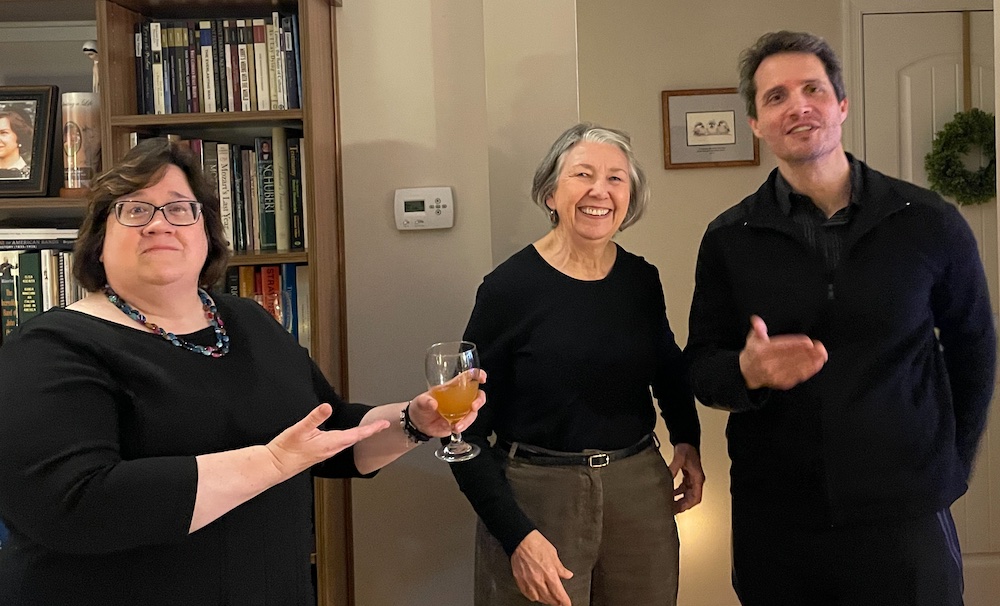 flowers from the Black family...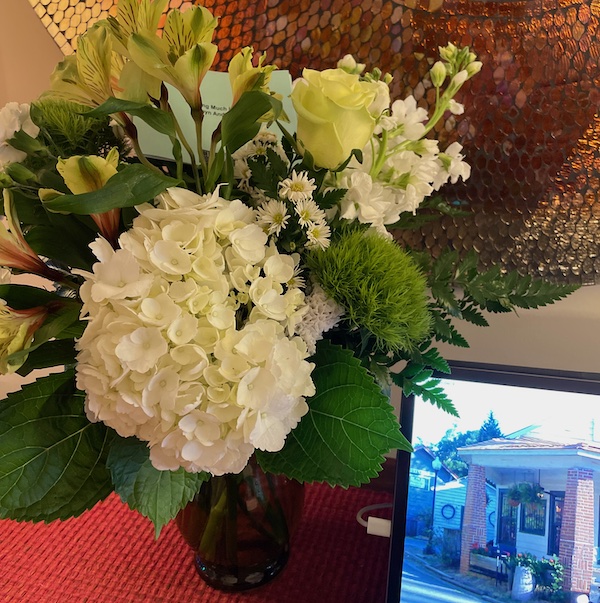 me with my parents Bob and Betsy...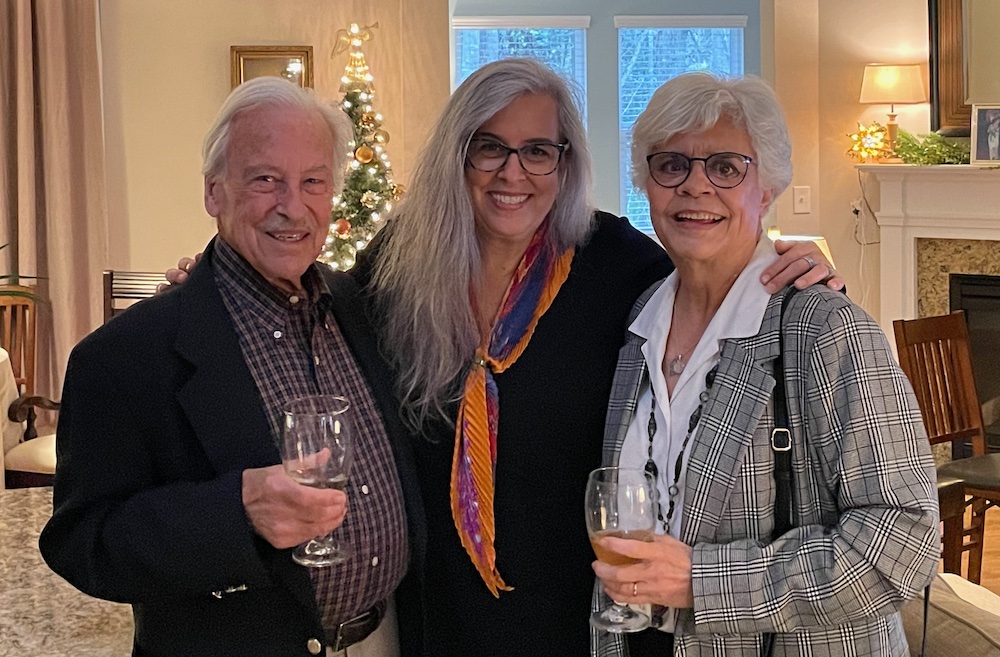 more flowers from my Hollins family...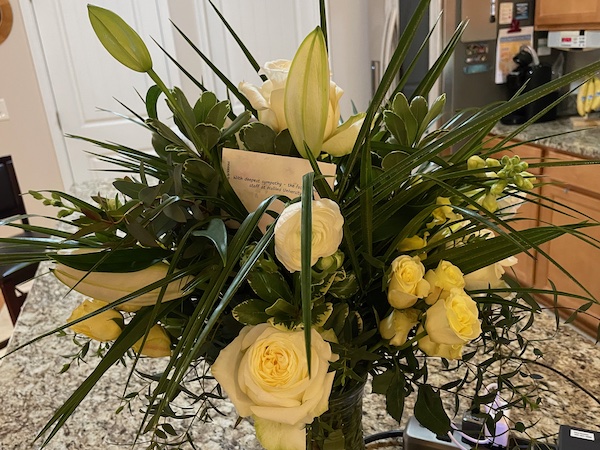 and my favorite, me with so many of my wonderful students (I'm a very lucky teacher indeed).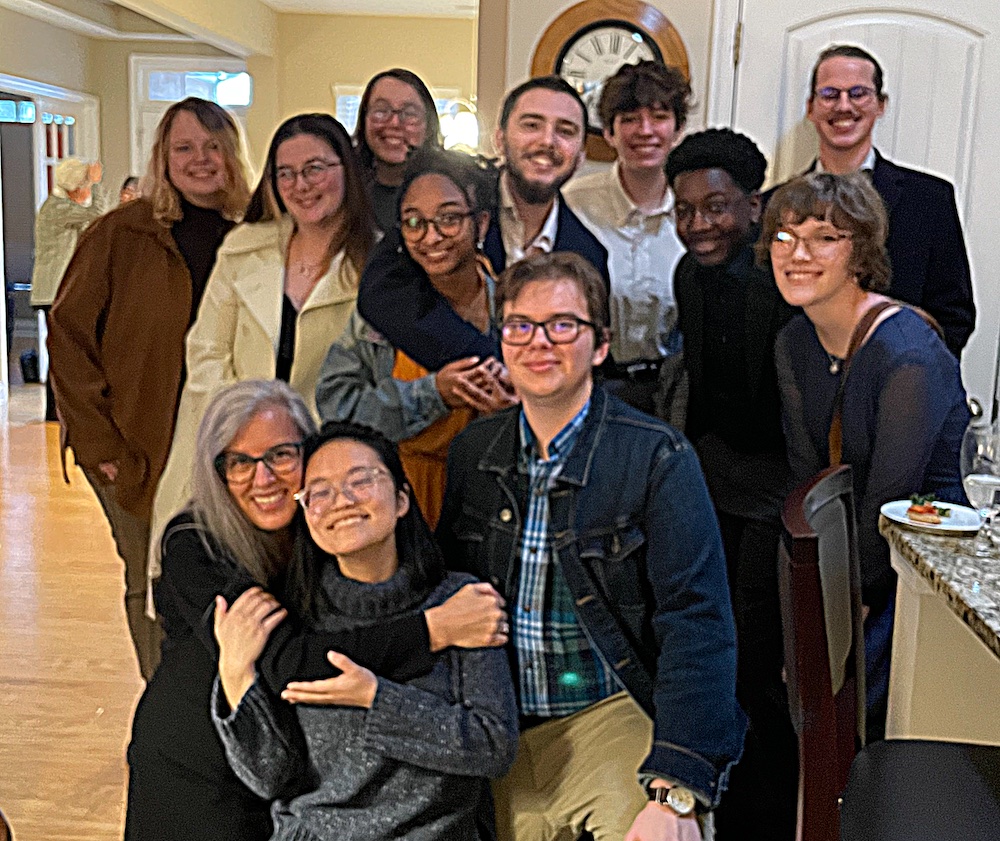 I asked several guests to share some thoughts and they contributed moving words in tribute. Stan's oldest friend Professor Emeritus Charlotte Headrick knew Stan when he was a student at Young Harris College. Stuart Brown worked for and with Stan at Deloitte and Touche during his early adulthood - they had a lot of fun together. Johnny Martin was Stan's bestie at the end - even though they ended up on different continents, they kept in close touch. Connie Bailey was our dear friend and center of our hub in Edinburgh. And Jane Yolen wrote a precious poem for Stan that I included on his tribute page (link below). Indeed, I was so pleased by all the poetry people envoked for Stan. Charlotte shared a quote from Romeo and Juliette and Johnny recited a poem from Robert "Rabbie" Burns. I wasn't planning on saying anything myself, but Ellen Kushner asked me to share some stories. I'd had practice recounting them to Stan when he was in the hospital, so I was able to share them with everyone. It helped put context to many of the photos in Stan's slideshow. We had so many good stories, so many adventures. I may start sharing them here, on my blog, as part of my healing. We'll see.
I want to thank those who helped pull this event together and see me through this rough time. Professor Elisa Koehler graciously offered her home to host the event, and it was simply perfect. We had food and drinks in the dining room, screens sharing a slideshow of Stan in several locations, the main Zoom location on the big television on her bookshelves, and a firepit on the back patio to relax by afterwards. Vicky Alvear Shecter has been with me through the roughest parts. She was at the hospital with me in the final days, notified everyone who needed to know as I stayed by Stan's bedside, and drove up once again to help hold me up at the Celebration. I am so lucky to have Vicky in my life - a truer friend could never be found. Professor Jason Tselentis, Chair of Design, arrived early to help with the tech and run Zoom during the Celebration. Everyone should be as fortunate to have such a generous colleague. My students Kaelen, Ethan, and James were my liaisons at the university and arrived early to help with tech, food, and photos throughout. (Truly, all my students have been amazing.) Flipside Catering made a stressful time less so and did a beautiful job. So many friends donated to Stan's GoFundMe, it covered final medical expenses, the expenses for the Celebration, and the expense of having Stan's ashes turned into Parting Stones. (I'll share more on that when they arrive.) Being spared a financial hit on top of losing Stan has been a balm. Colleagues and friends have sent so many cards, flowers, and gifts, I've kept them all and treasure them. Everyone's kindness and ongoing support has meant the world to me.
I'm not sure how to navigate this next part of my life. There's no way
around
grief, only
through
it. But as I said at Stan's Celebration, he'd want me to continue to
Live Out Loud
just as we did when he was well. So, I look forward to blossoming back into the world and having more adventures...
eventually
. For now, I sit with my memories and I'm grateful I am not alone. I am surrounded by love.
Stan's Tribute
Stan's Celebration of Life