It's been a while since I last blogged. After my husband passed, I rather fell out of the habit. But life is offering me a new chapter and this one will put me back on the social media pony... I have taken on a new position! I am now the Director of
Graduate Programs in Children's Literature, Writing, and Illustration
at Hollins University. We're growing our program from the low-residency summer model to offering a year-round model as well, and I will be spear-heading the endeavor. (If you want to know more about it - please email me at dulembaeo at hollins.edu).
I moved to the
gorgeous
Roanoke, Virginia this past weekend and am settling into my new home - a ground floor apartment in an old Victorian in the historic district. I'm near all the fun things to do in the city and only a 15 minute commute to campus. The best thing is that Virginia has always felt like
home
to me. My earliest years were spent in Manasas, Virginia, and I used to visit my grandparents every summer in Lexington, just up the road from Roanoke. The first time I set foot on campus and saw all the bunnies and smelled the boxwoods, I had a deep sense of
peace
and it has never left me. I'm HOME! After working summer semesters in our low-residency MA/MFA/Certificate programs for
ten
years, I'm so excited to be on this beautiful campus
full-time
. I'll get to see the leaves change and maybe even some
snow
!
To start off this adventure, yesterday was Convocation - the "welcome back" ceremony for faculty, staff, and students. But this was unlike any Convocation I've ever attended. I felt like Julia Roberts in
Mona Lisa Smile
as I lined up with my fellow faculty and walked to the chapel.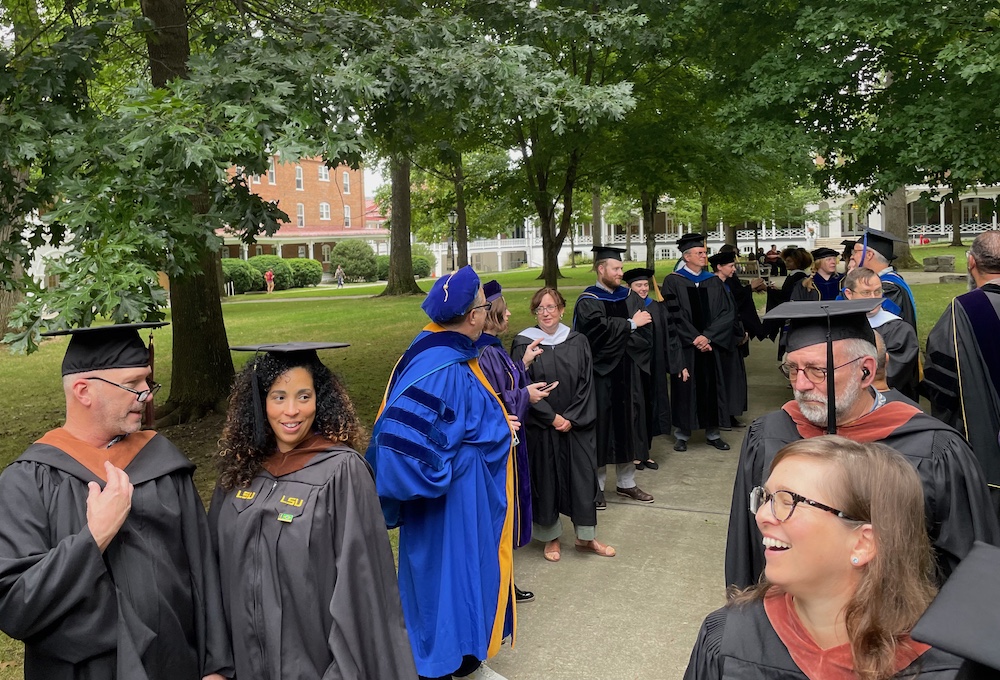 Here I am with
Andrea Martens
, our Print Professor, and
Amy Gerber-Stroh
, our Film Professor.
Seniors have the wonderful tradition of wearing customized robes to Convocation, and they go
all out
. I wish I could show you more, they were so fun!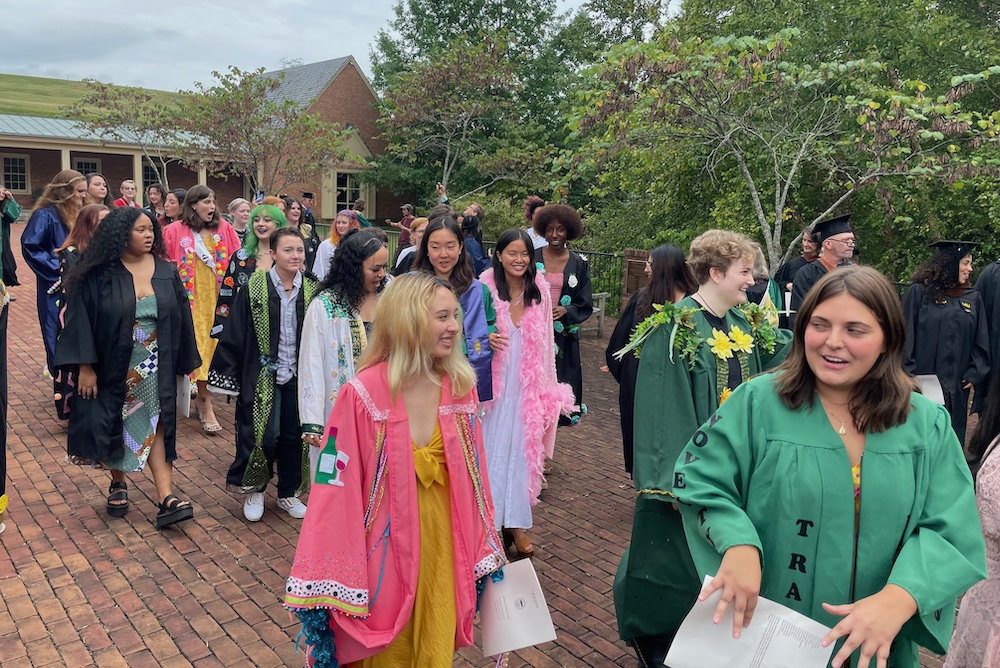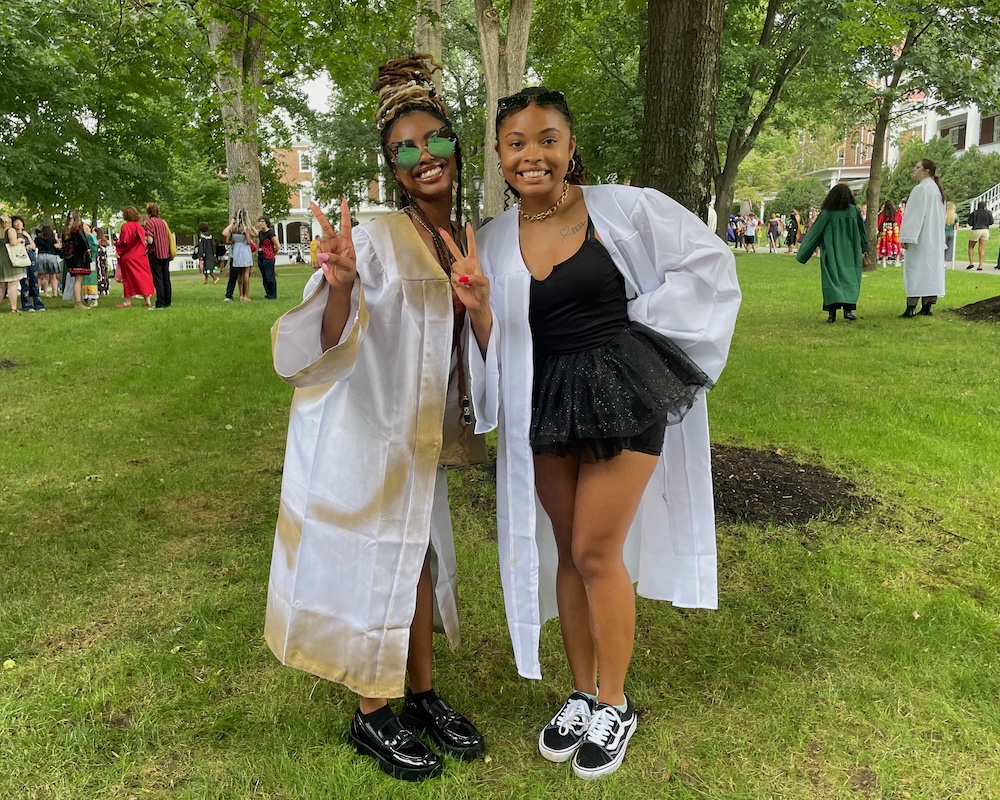 President Hinton gave a rousing speech about how living one's true self with JOY is in itself an act of defiance - it was truly fabulous and we gave her a standing ovation. I'm so looking forward to working alongside this
Rock Star of a University President
!
Students sang Hollins' songs that have been sung since 1842, the year of the University's inception, led by Choral Director,
Shelbie Wahl-Fouts
.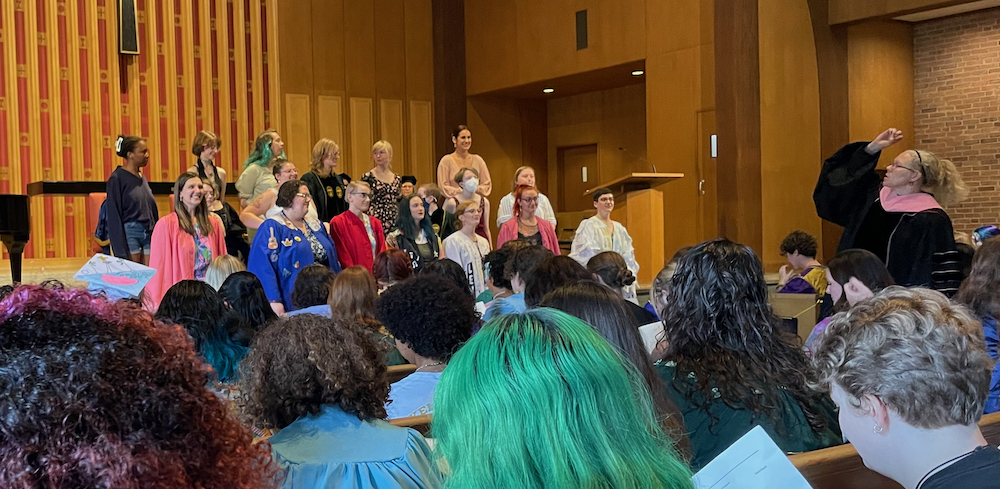 Finally, we all gathered in the Quad where I was warned to stand back, because the students shake up bottles of champaigne (or bubbly cider) and spray it
everywhere
! Talk about JOY!
What a way to kick off this new position! I have so much to do, so many meetings to have, and so many book festivals, fairs, and events to attend to help spread the word about our new offerings, it's going to be an exciting ride! I hope you'll stick around to share my adventures with me, because, I'm BACK!!! Here I am with my good friend and the
Eleanor D. Wilson Museum
Director,
Jenine Culligan
, looking mighty happy indeed!!!