You probably know
Shepard Fairey
from the Obama HOPE poster. It turns out, he has a Rock Hill connection. So, before the pandemic, he was supposed to come to town to paint a mural downtown, and maybe even stop by Winthrop to see the "Get Out the Vote" mural my students painted two years ago. Then the pandemic hit, and all the plans went to scrap... for a while.
This past weekend, Shepard came back. The city threw a private party at the newly renovated Mercantile building and several faculty and students from Winthrop were invited to attend. Original pieces were on display (and for sale for a hefty sum). Here are my dear friends Paula and Myles drooling over the artwork.
The party was a bit of a who's who in the Rock Hill art scene, so it was exciting to be included. It also felt like a rebirth of the arts social scene that's been asleep almost since I moved here as a result of the pandemic.
I had so much fun doing my butterfly thing, running around meeting people, and talking with friends. I met several local muralists who have been creating wonderful artwork in Charlotte and Rock Hill:
Osiris Rain
,
Darion Fleming
, Frankie Zombie, and a few others doing fantastic work on the
Mural Mile in Rock Hill
. And since my students were there, I was intent to make sure they met the man. Here are Erin, James, and Adam (all Illustration Majors) with Shepard himself.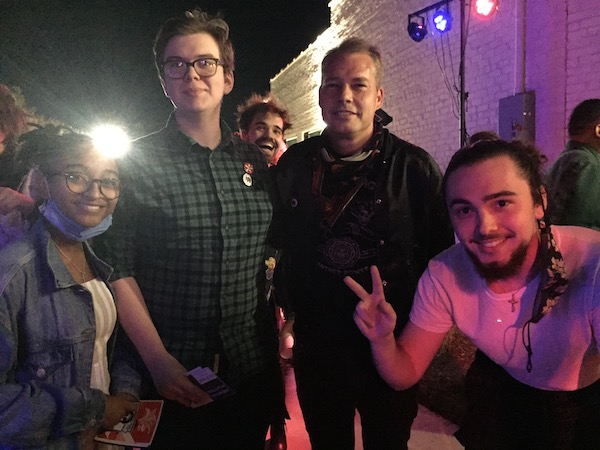 Adam is also a brave soul. He asked Shepard if he needed any help on the mural. Without missing a beat, Shepard said, "Sure, show up about noon tomorrow!" So, that's what they did!
I dropped by to take pictures. Here are Griffin (Fine Arts Major), James, and Adam getting directions on what to do.
Shepard kept an eye on them for a short bit, and was obviously happy with what he saw.
Soon after, he was down there with them.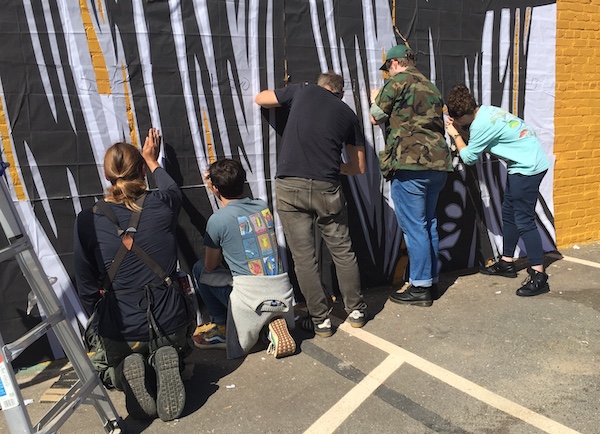 He wasn't just giving them busy work - he had them cutting and painting, the real deal. What an incredible experience. I sat and watched for the longest time. There was a crowd there doing the same thing - it was quite entertaining to watch! It was such a beautiful day and I was just silly happy that my students were getting to experience this. Before I left, I heard Shepard tell them he was ordering them all pizza for lunch. Cool!
It was also fascinating to watch how Shepard works. The design was printed out onto large sheets of paper that his crew used as a template for spray paint. Moving scaffolding got them from the top of the building to the bottom.
I was surprised by the method as it wasn't all that different from what I came up with for our "Get Out the Vote" mural. Although, I was told that different muralists do different things, such as projecting an image, or even free-handing it.
This mural was a massive undertaking, but the templates made sense with all the bold shapes. After watching the students work on the hair for a while, I understood why they were so willing to have people help - that was the hard part! I'm pretty sure my students went back the next day, as there was no way they finished that day. Here's the mural so far.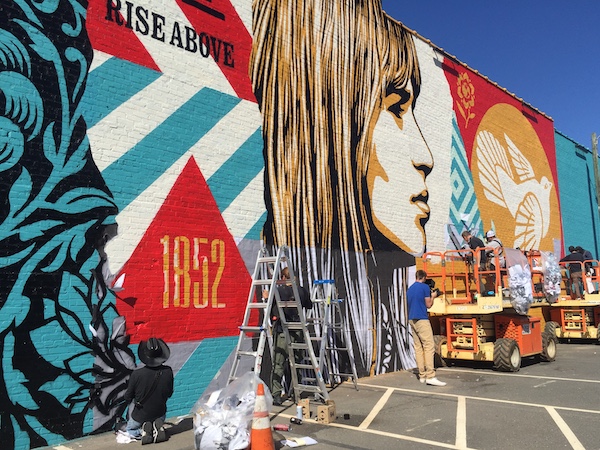 I'll get a picture when it's done and share that too.
Overall, what an amazing treat this was to see and be a part of.