It's THIS BOOK IS BANNED, written by Raj Haldar and my dear friend JULIA PATTON, published by Sourcebooks!!!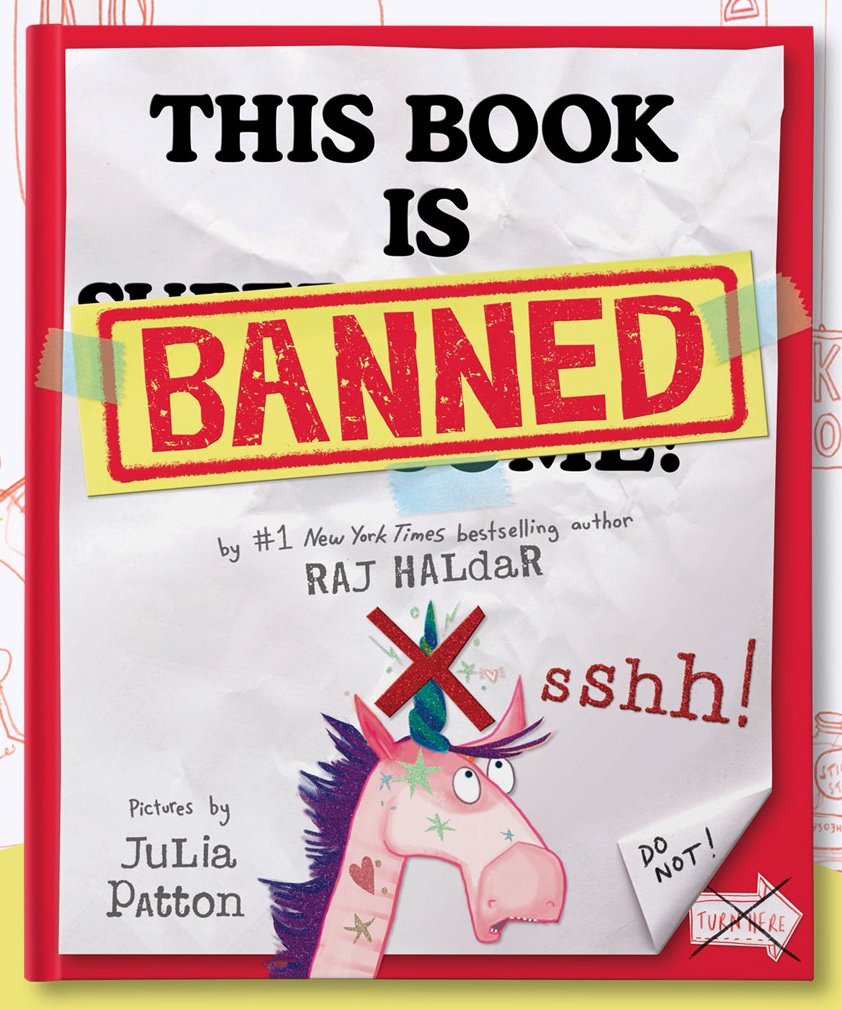 I asked Julia, "How much FUN was it to create this book and what do you hope people will take away from it? (Please do go on!)"
And she said...
This Book Is Banned was a blast to create. I've worked with the Editor & Creative Director from Sourcebooks before on a few books now. My Editor Kelly, saw the manuscript and mentioned my name to Raj, the author. Jordan, my Creative Director knew she wanted an artist who worked in mixed media collage to have 'removed, erased, crumpled & rubbed out' elements and thought of me right away. I trust their judgment entirely and so it was a firm yes from me. I was hooked by the premise and I knew I could add more than the text was suggesting with the character design, the textures and innovative ways of creating pages that brand borrowed* [from e: I didn't know this term, so Julie added an informative description - it's at the end of this post!] from diaries/journals/scrap books, etc. I was encouraged to be as creative as I wanted and sent through the first pencils within a week. Some of those initial, free and instinctive illustrations made it to the final art, which is a first for me and quite alarming for a perfectionist who has a tendency to overwork things. It was a liberating feeling and it seemed to fit the immediacy of the narrative and it felt 'right'. I'm in my element when creating with complete freedom and know I have the best team around me. I really indulged my initial response to the 'speak up and let your voice be heard' aspect of Raj's text and created the 'protest pigs' with picket signs and cut-out found typography. It was liberating to draw rebellious characters. Pencil power! The end papers were created in a few hours. (I did create another 'not-for-general-release' version to send to my Editor & Creative Director just for sheer naughtiness as I was getting a little bit carried away with spirit of it all.) It's been a tremendous project to be involved with and it still thrills me to learn new things after 57+ books. Responding honestly to a manuscript with a sense of urgency demands that you create in a new way, which was a welcome gift from the whole experience. I hope this book reaches the right hands and creates enough noise to begin discussions on freedom of speech and the dangers of censorship.
Lavar Burton is also doing a fundraiser for Banned Books Week via
Moveon.org
.
While you're doing all you can to support BANNED BOOKS WEEK, you might want to stop by your local library and ask your librarian how you can help. (Then give them a hug if they'll let you, because they are HEROES!!!!)
Oh, and color some of my
I LOVE READING
coloring pages - like this one!
More from Julie...
*To 'brand-borrow' - appropriating the attributes from a secondary source. Utilising the power of a universally acknowledged value/identifying characteristic of a previously existing item/object. Exploit the commonly perceived, associated ideals of a product to promote & gather favour for another. Adopting an objects sense of familiarly, previous attachment, street value/kudos to gain a heightened level of comprehension to your product or idea. Also known as stealing, copyright infringement, intellectual property theft!

Scrap Book brand borrowing would be showing pasting cuttings & added physical mementoes, photos, tickets etc.and written accompanying notes.

Diary brand borrowing, would include dates, times and areas of hand-written text/doodles with exaggerations surrounding feelings or highlighted emotional moments.

One of my favourite 'brand borrowing' examples when lecturing: when one gathers ideas from multiple places one can be called a 'creative magpie'. We all know (and without further explanation) associate a magpie with collecting shiny objects it's attracted to.
Well, I just learned something! How about you?