Last weekend I had the great pleasure to speak at the Carolinas chapter of the Society of Children's Book Writers and Illustrators (
SCBWI.org
).
It was hosted at the Hilton Charlotte Airport, where I had a lovely
suite
to call home for a weekend! Can you say
"writer's retreat"?
I sure did! But first, on Friday, I gave a talk about "Color: Identifying Your Personal Color Palette" - a topic I'm beginning to get known for and received compliments for all weekend. It had great attendance, and as so often happens, several people reported that knowing their personal color palette
changed their lives
! No kidding, it can be that significant! I also gave a portfolio review, which is always fun, although, is never enough time.
I didn't take nearly enough pictures of the weekend, and the photos I did take are terrible, so my apologies on not providing better visuals for this post. But that just wasn't what this weekend was about for me.
I did attend some
wonderful
talks. For instance, my friend
Ashley Belote
talked about using Procreate.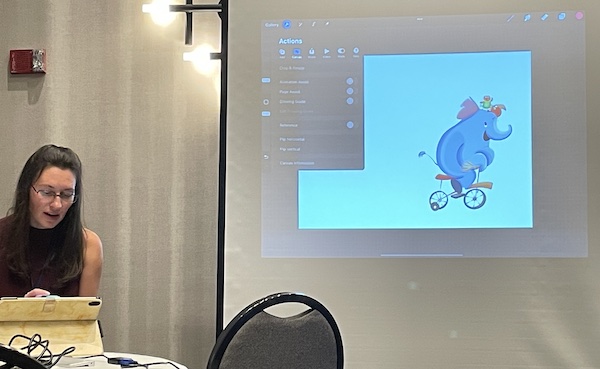 And
LeUyen Pham
, illustrator of over
100 books
, who was also a
lovely
and dynamic person, gave one of the best talks about perspective that I've ever seen!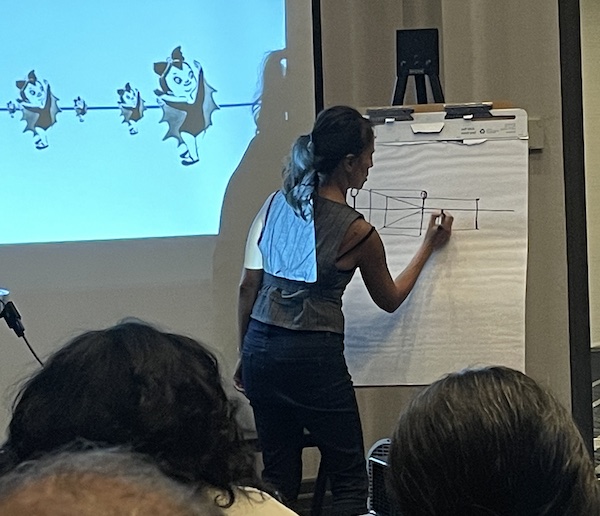 But truly, being able to attend a conference again, in person, was such a JOY, I spent most of my time connecting and having wonderful conversations with
people
like Maya and Matt Myers, Stacy McAnulty, LeUyen Pham, Jake Burnett, Ashley of course, and Cinda Williams Chima in particular, or just hanging out in the lobby
writing
. (I finished two projects!) I wasn't trying to get published, or connect with the editors/agents/publishers - I already knew them and we all got to say "hi!" I wasn't trying to push my work because I already have enough to keep me busy for a lifetime (mostly mine and Jane's). So, I just got to relax and really enjoy myself and all the brilliant people attending the conferences - including some of my friends from Southern Breeze, my old SCBWI chapter - it was so good to see them! I even made connections with some amazingly talented people who I hope to invite to speak to my students sometime soon, like Caldecott-winner Gordon C. James, who, it turns out, lives in Charlotte!
Truly, the weekend was all about
people
, and writing, and I didn't want it to end. But of course, that's why I so look forward to these conferences... I had such a great time!