As I mentioned in my previous post, I was invited to Mentone, Alabama to give three talks to patrons of the Moon Lake Library: 1) For kids on
Crow Not Crow
; 2) For adults on creating and illustrating picture books; and 3) A follow-up talk to my TED Talk, "Is Your Stuff Stopping You? The Art of Letting Go." (I'm happy to come give any of these talks to
your
community as well - email me!)
The Gadsden Times
did
a lovely write up
. as did the local community paper,
The Groundhog
(page 21).
The kids and I had a
great
time reading
Crow Not Crow
written by Jane Yolen and Adam Stemple, illustrated by Yours Truly, and learning how to draw a crow.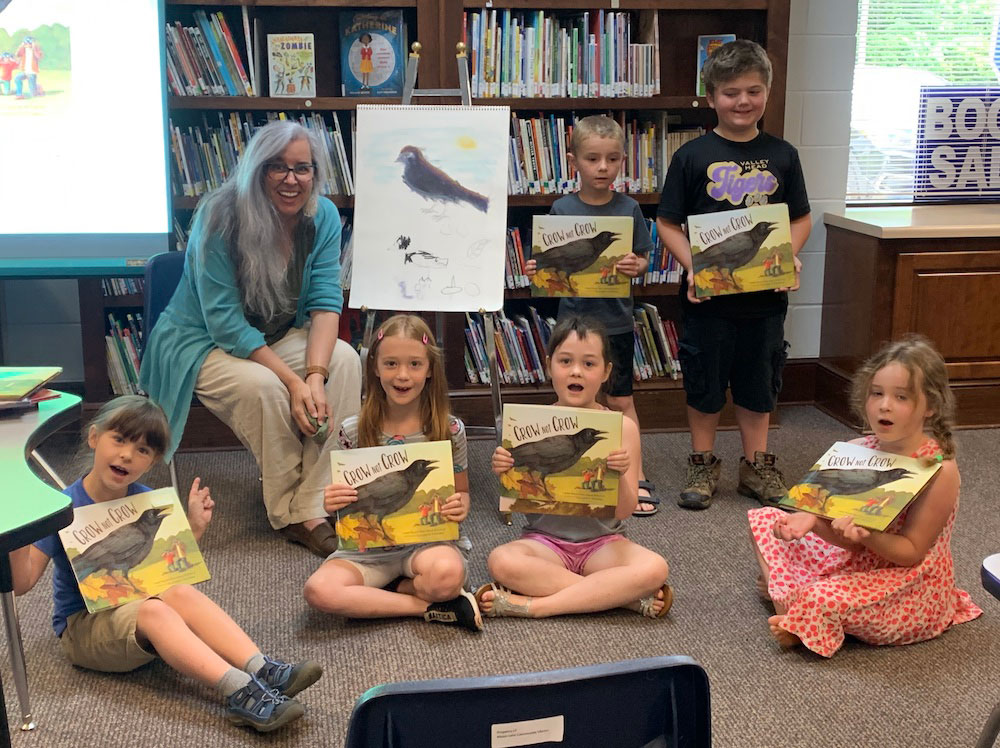 The "how to" session was also well attended. (Keep in mind, this is a community of 320 people total!) One budding author even showed up with her manuscript in hand, ready to go! I think they're going to start a writing group at the library as a result. Wonderful!
Anne and Pat introduced me and ran the slides. It all went swimmingly well.
But the big test was the talk Anne asked me to give as a follow-up to my TED Talk, "Is Your Stuff Stopping You?" She even came up with the perfect name: "The Art of Letting Go." I'm hoping to do more with this follow-up talk, and spent some serious time on it. It was a wonderful opportunity to reflect on the "Big Purge" when Stan and I sold almost everything we owned to move to Scotland, to see if I had any regrets (I don't); but to also review where I stand on things now, after the move and a pandemic—the world has changed, I'm getting older.
The best part was at the end of my talk. I asked the audience to sit in a circle to discuss their own views on what "stuff" means to them now, how much they need, how much is enough at this stage of their lives. It was a great discussion and got so many folks thinking. I certainly enjoyed it!