The 11th Illustrators' Conference, a.k.a.
ICON 11
, hasn't happened for four years because of Covid. Even during regular times, it's only a biannual event. But this was my
first
time to attend. Happily, Hollins University signed on as a sponsor, so M.J. Begin and I traveled to Kansas City, Missouri for the event. M.J. and I are good friends, so this was destined to be a
party
!!!
We roomed together in the wandering and enormous downtown Marriott. This was our view with our very own gargoyle looking over us.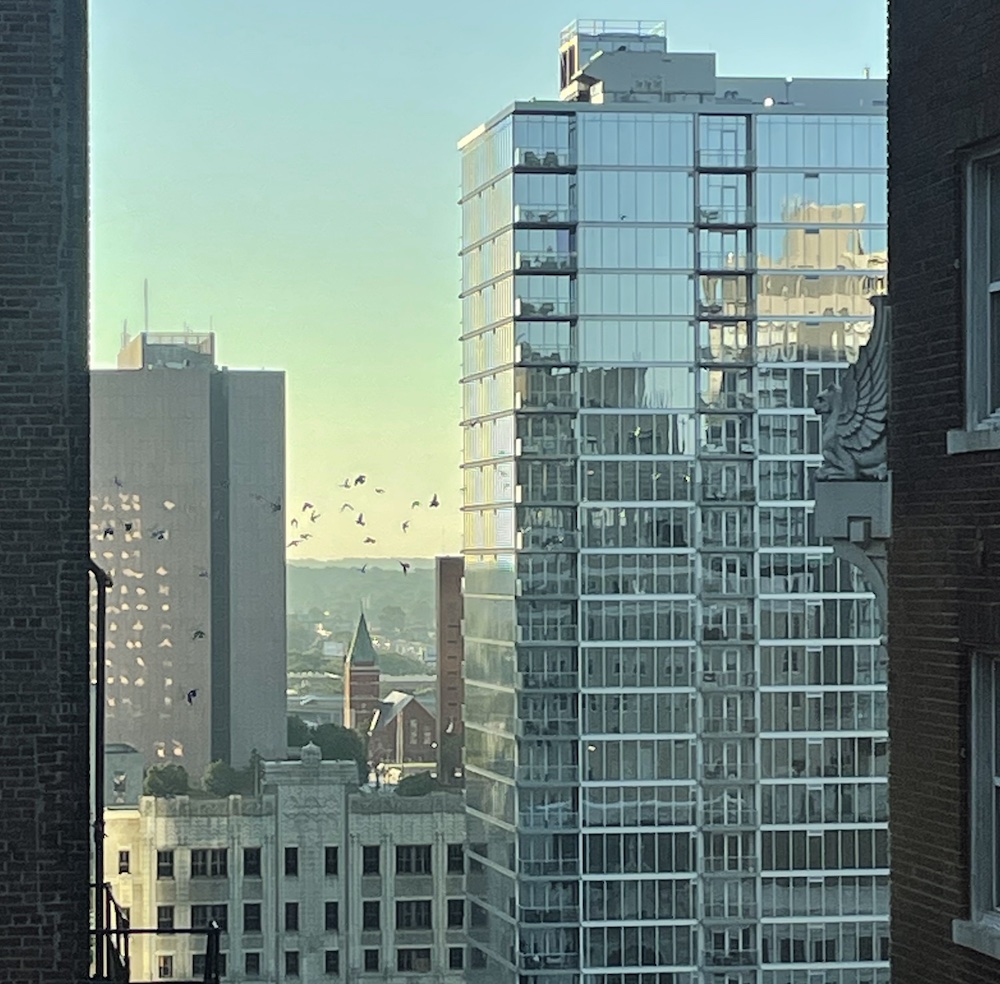 I have to admit, I was pleasantly surprised by Kansas City—it is a
very
cool town! They have a free tram, adorable craftsman bungalows, boundaried bike lanes, it's very clean, filled with green hardwoods and rolling hills, and had fun entertainment in central areas downtown. If it was near an ocean, I'd be all over living there! As it was, we took advantage of the city's claim to fame: BBQ! Here I am with illustrators
Armando Veve
, MJ, (me), and
Annalisa Oswald
.
To represent Hollins, MJ and I set up two tables and two of the ICON venues. The first was at
the Folly Theater
, with banners that had both MJ's and my art,
and books by Hollins faculty members.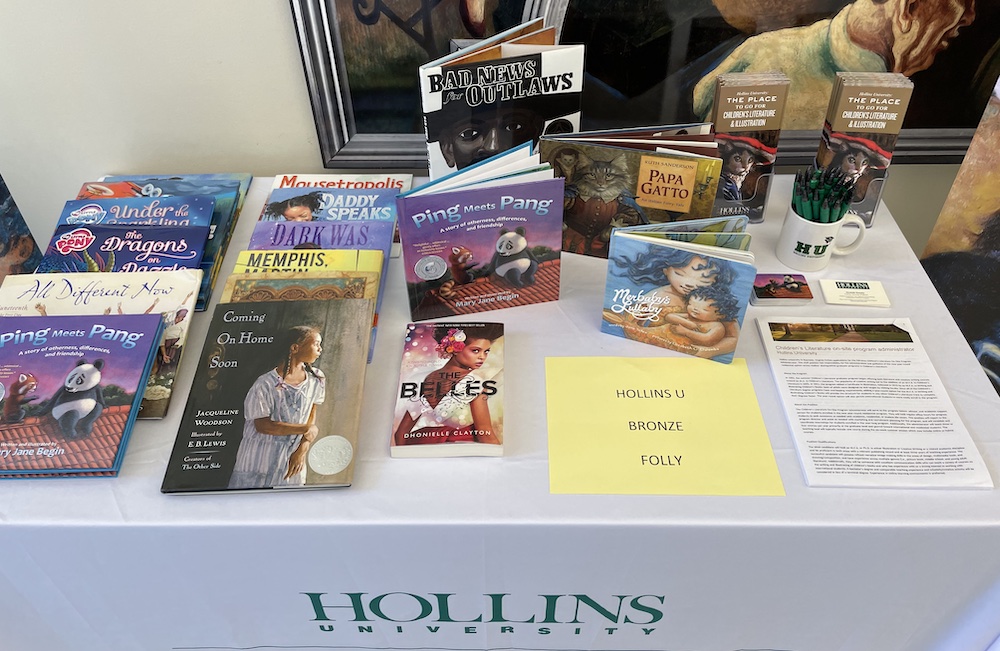 The second was a pop-up table during the Roadshow, an event where illustrators set up tables to sell their wares.
When we weren't manning our tables, we had fun at the parties.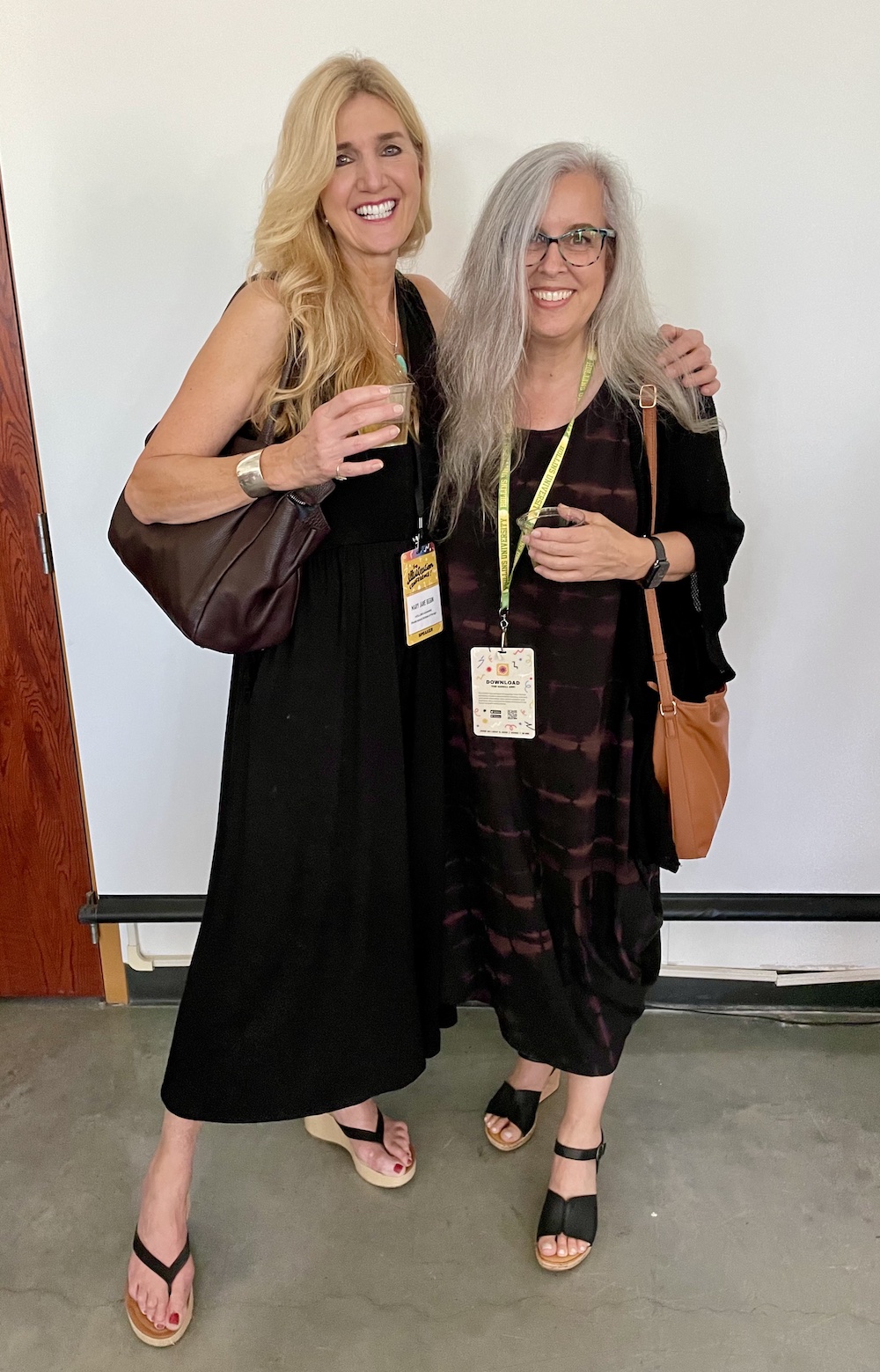 And attending the fantastic talks that were hosted at both the Nelson Atkins Museum (which we spent more time seeing later in the trip),
and at the Folly Theater, which was
gorgeous
.
Being illustrators, the set up was cutting edge and great looking. Between speakers, a sort of animatied "stage-saver" ran—so cool: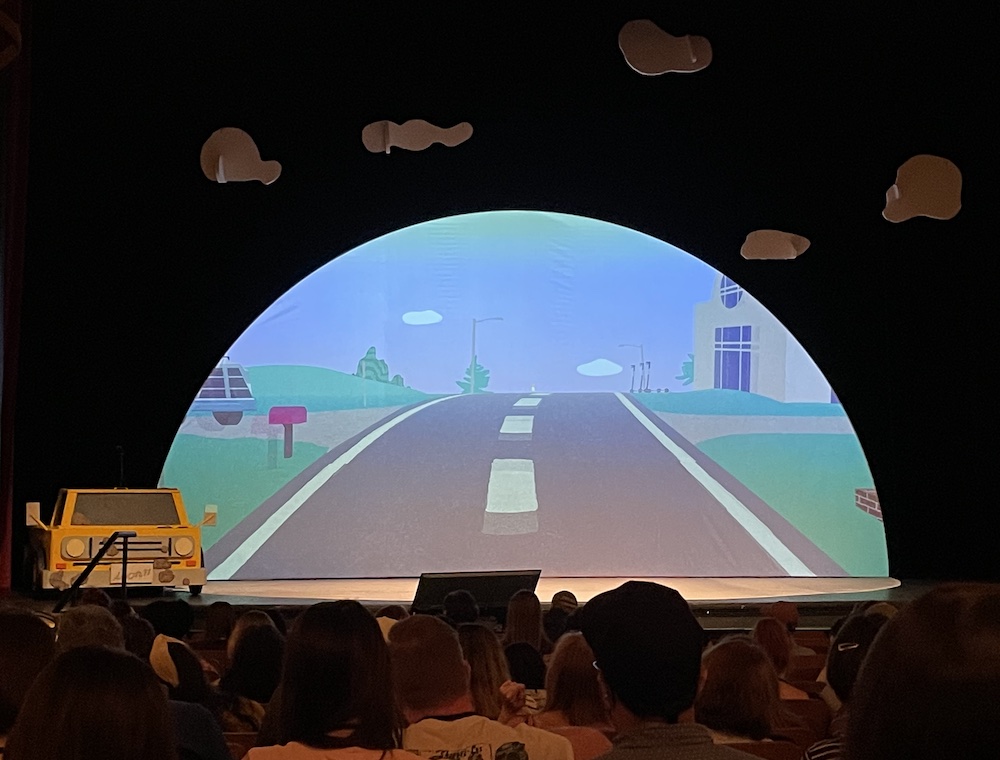 We heard from greats like
Adam J. Kurtz
and
Lisa Congdon
.
There were workshops and sessions for educators—those were the ones I most enjoyed. And boy did I gain some great insights and exercises to use with my students! And there were also some
great
parties! I made so many new friends, but was also thrilled to see a few
old
friends, like Phil Scroggs, who I went to UGA with for my BFA; Joe Kulka, who I used to be in a critique group with and yet we'd never met in person; and Michael Austin, Atlanta buddy. Here I am with just one of the new friends I made, Annalisa.
We couldn't help but meet folks, there were so many parties and everyone was so thrilled to be in person, everyone was incredibly friendly! We took a bus back and forth to some of the parties.
The last party had a jazz band and mor eBBQ. Here's MJ with Mark Heflin, the man behind
all
the ICONs.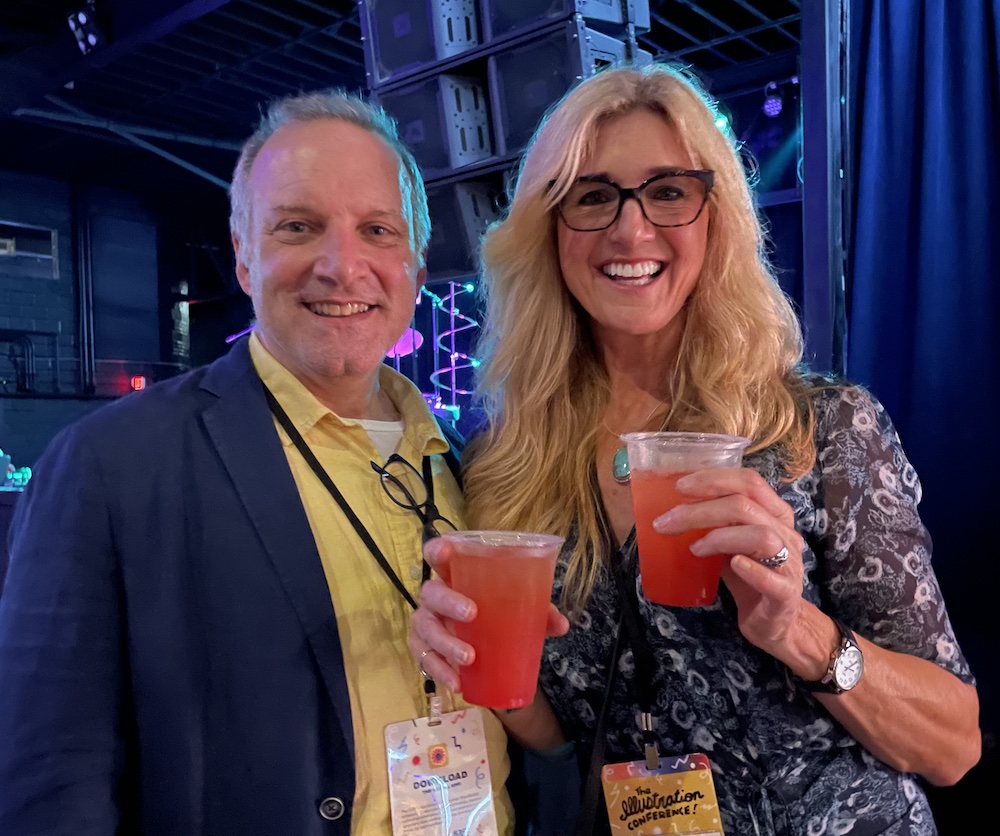 great activity of a wall of colored spots that all the illustrators drew charicatures onto.
Here is my self-caricature.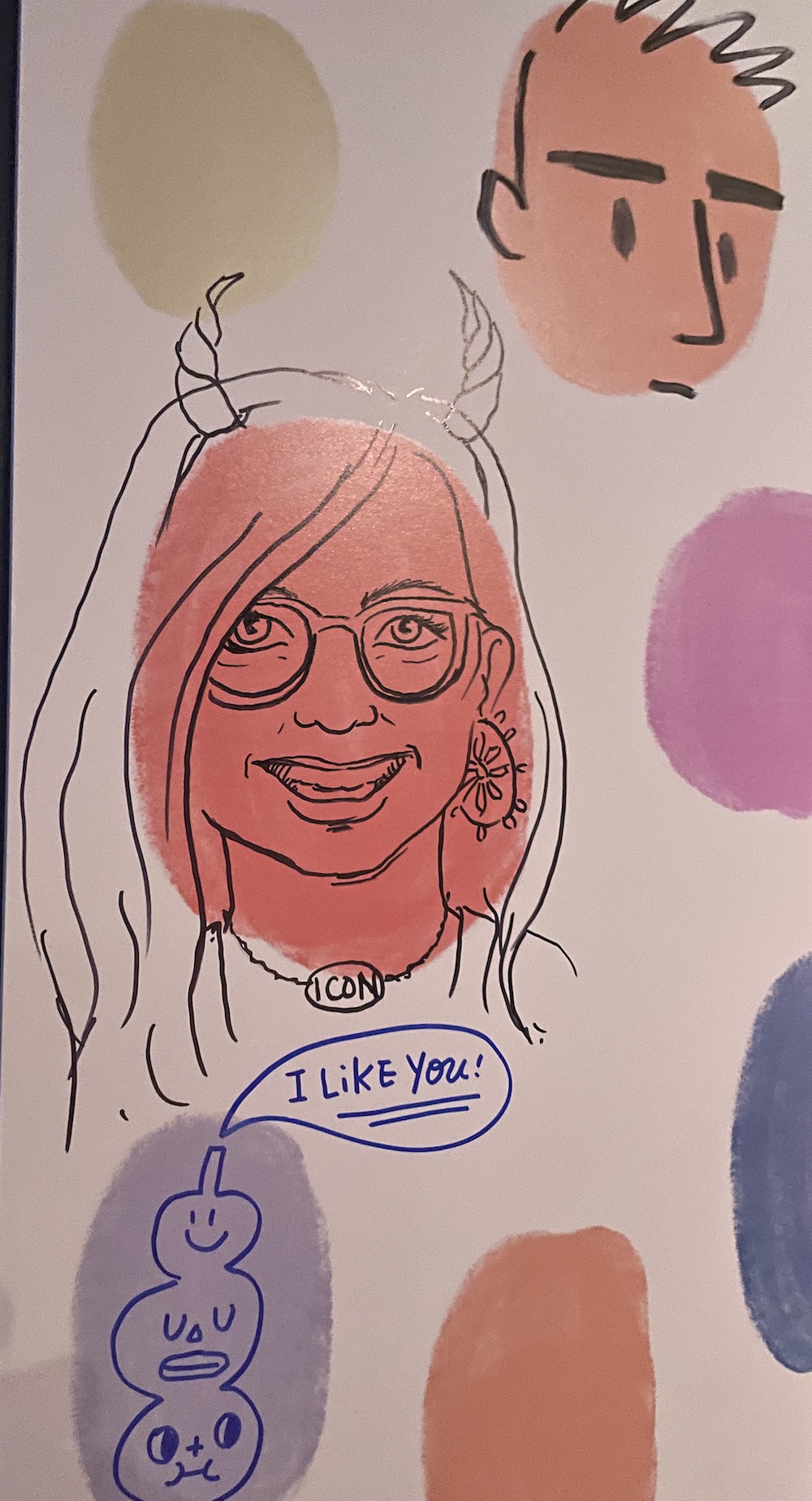 Here is MJ's:
There were so many people who made this amazing five-day event the success it was. Thanks to Mark and all! Here are some of them: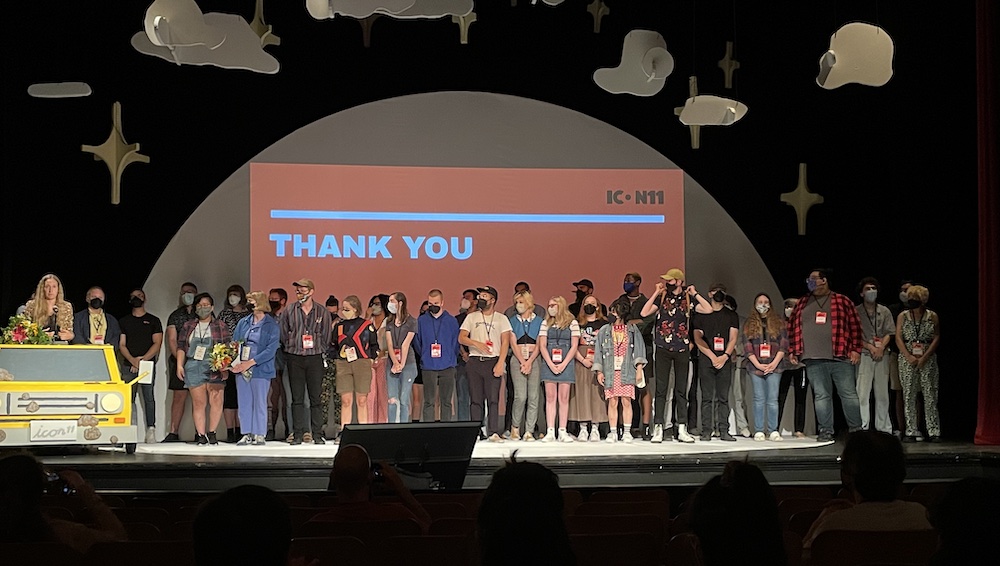 The only downside from the amazing trip, is that a lot of us went home with Covid, including me. Hence this late post. I'm better now, thank goodness; and I'm happy to be reflecting on what a wonderful event ICON was. I can't wait for it to come back around in two years - I'll be there!